Conflict over land in Cambodia is taking a dangerous turn
As land grabs marginalise those evicted, Cambodian authorities are increasingly using violence to keep a lid on things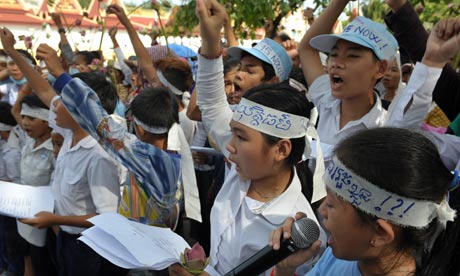 As disparate as these cases may seem, there is a common thread that runs through each of them: conflict over natural resources.
This massive transfer of natural resources has been accomplished mostly through Cambodia's economic land concession (ELC) scheme, in which the government leases large plots of land to companies that agree to farm them. Those evicted to make way for superfarms are entitled to compensation, but rarely get it. Cambodia's land title system is in shambles, and poor farmers rarely hold deeds for their land – even if they are legally entitled to them, based on possession rights.
The driving force behind Cambodia's land crisis may be shortsighted greed, but its legacy could be long-term social and environmental catastrophe. The land grab is creating an underclass of landless citizens who have no stake in society and nothing left to lose.
For the average Cambodian, the only avenues that offer the prospect of success are public protest and individual action. The government is well aware of the desperation, and this fact helps explain the recent spate of arrests, killings and harassment. The authorities are increasingly using violence to keep a lid on things. If evictees don't go peacefully, private firms are willing and able to tap the resources of the state to forcefully capture land.
The violence and arrests are symptoms of an accelerating breakdown in Cambodian society. People need outlets for complaint. They need recourse and accountability. Cambodia increasingly has neither. Pressure is building and the system is having difficulty keeping discontent bottled up.
The first step would be to call for the loophole in the ELC moratorium to be closed – before more Cambodians are marginalised and it becomes too late. Only when this is done can the country begin its long journey towards transparency and fairness in land rights.