Children worst affected by tenfold increase in malaria infections, prompting emergency operation by Médecins Sans Frontières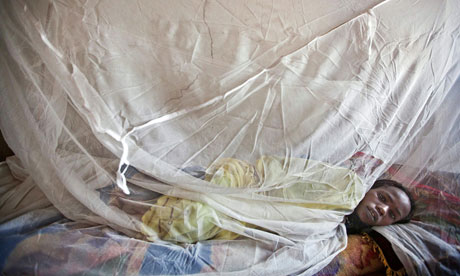 The number of reported new cases rose from 1,228 in the first week of August to 14,021 by the end of the month at the charity's project in Am Timan, Salamat region. The estimated death toll is more than 50; the town has a population of 213,000.
At its outreach sites, the charity's teams said 73% of patients they have been treating were suffering from the mosquito-borne disease.
One in four deaths in Chad is attributed to malaria and it is the most common cause of death in children. MSF said it was not unusual for cases to peak during the rainy season, from July to November, but the increase was alarming.
Jason Mills, the charity's head of mission in the country, said the most likely explanation was a lack of protective bed nets combined with unusual rain patterns. Heavy rain left pools of stagnant water, which was exacerbated by further rain and a large number of mosquitoes, he added.
The rest of the country has also been inundated, particularly the south. The government plans to treat 800,000 cases this year, an increase of 25% on 2012, and has so far treated 450,000, disrupting medical supplies. Rain patterns were probably the cause, Mills said.
MSF said it sent an emergency team to support local health centres with malaria diagnostic tests and treatment supplies, as well as training health ministry staff and improving epidemiological surveillance.
It erected a malaria treatment tent within the Am Timan hospital compound where uncomplicated cases could receive attention. More than 1,400 patients have been treated in the tent over two weeks.
MSF plans to distribute mosquito nets to households in affected areas and launch a public-education campaign. Mills added: "The goal of our emergency response is to improve the early diagnosis and treatment of non-severe malaria and to improve the management of severe and complicated forms of the disease. Many people who live outside the town of Am Timan have limited access to healthcare. The majority of those who are dying of malaria right now are dying in their homes."
MSF said it would continue its emergency response to the malaria outbreak in Am Timan and surrounding areas until late November.
Cristina Mach, the MSF medical co-ordinator in Chad, said: "While malaria is endemic here, the rate of infections this year is beyond all forecasts. Existing diagnosis and treatment supplies in the country are severely strained."
The organisation quoted one resident, Halima Ibrahim, as saying: "Several weeks ago, my eight-year old daughter Salimata Ali started to shiver and complained of a headache. We took her to a local healer who gave her tablets, but she continued to shiver and couldn't speak properly.
"The next day the head of my village came to our compound with doctors from MSF. They tested her and then gave her medication. Three days later she was a lot better."
Latest available statistics from the World Health Organisation show more than 650,000 people around the world died from malaria in 2010, mainly children in
Africa
.