14 June 2011
A parliamentary report says that despite its huge economic growth India should receive aid until 2015 to ensure it meets the millennium development goals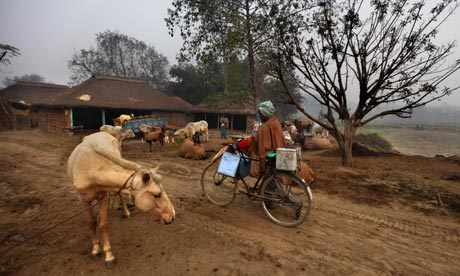 The committee of UK MPs said future aid to India should be targeted to improve sanitation, tackle malnutrition and challenge social exclusion. Photograph: Altaf Qadri/AP
Britain should continue to give aid to India until 2015 to ensure the country meets the millennium development goals (MDGs), a UK cross-party group of MPs recommends.
In a report published by the House of Commons international development committee on Tuesday evening, MPs said that despite India's huge economic growth over the last 25 years, average per capita income is one-twentieth of that in the UK, and more than 400 million people still live in poverty. According to the UN MDG monitor, more than a third of India's population live on less than $1.25 a day.
The committee called for future aid to be targeted to improve sanitation, tackle malnutrition and challenge social exclusion. But it also recommended that after 2015 the UK's aid relationship with India should "fundamentally change", suggesting the Department for International Development (DfID) begins drawing up an exit strategy.
Aid to India has proved a contentious issue. Andrew Mitchell, the international development secretary, has defended his decision to give £280m a year over the next four years to a country that is the 11th largest economy in the world against critics who view its economic development and its billion-dollar space programme as evidence it does not need aid. Mitchell has already said aid to India until 2015 will be targeted on the poorest, with half the money spent on pro-poor private sector development.
The committee said it had examined the arguments for and against aid. Its chairman, Malcolm Bruce, said: "The test of whether the UK should continue to give aid to India is whether that aid makes a distinct, value-added contribution to poverty reduction which would not otherwise happen. We believe most UK aid does this."
He added: "The Indian government has primary responsibility for poverty reduction. It has put up taxes and increased its social spending, but the poverty there is on such an extreme scale that it will take many years for India to achieve internationally agreed millennium development goals. Poverty levels remain high in some parts of India, and these are states where UK funding is targeted"
The committee found that the Indian government invested "significant funds" in social programmes for health, education and employment.
The report noted that India's space programme was often used as an example to illustrate the country's wealth, but MPs insisted the programme also delivered socio-economic benefits, such as mapping weather patterns and the extent of floods.
The committee is calling on DfID to redirect resources for India from health to sanitation and recommended the department's nutrition programme becomes a central plank of its funding to tackle malnutrition.
The committee also wants the department to do more to challenge discrimination against certain castes, ethnic or religious groups and people living with disabilities.
Robin Greenwood, Christian Aid's head of Asia, welcomed MPs focus on discrimination. "Christian Aid's experience in India is that the exclusions from society of whole groups - Dalits, tribal people, religious minorities and also women - are the most important causes of continuing extreme poverty in India," he said.
A report from the Organisation for Economic Co-operation and Development (OECD), also published on Tuesday, found that poverty in India has fallen faster than in many other emerging economies over the last 10 years, although it said the government needed to focus on more pro-poor policies, including strengthening the welfare system and improving access to healthcare. At 1% of GDP, India's health spending is among the lowest in the world.
The OECD report highlighted India's high rates of school drop-outs, despite education being a government priority, and called for better regulation and funding, more incentives for teachers, and more student loans for higher education.
http://www.guardian.co.uk/global-development/2011/jun/14/uk-politicians-back-aid-to-india