guardian.co.uk, 23 April 2011
A chance to make a difference
Christian Aid's manifesto for change tackles eight issues of poverty that could change the lives of billions around the world. But governments must act now to shift the balance of power and help the poor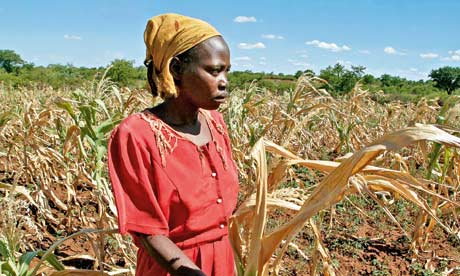 Farmer Loyce Nkala stands among her drought-devastated maize crop in Filabusi, south-west Zimbabwe. Photograph: Howard Burditt/Reuters/Corbis
The economic crisis that has hit countries both rich and poor presents the world with a unique opportunity. As governments search for ways to recover from the worst financial slump since the Great Depression of the 1930s, Christian Aid believes there is now a real chance to confront, and even finally overcome, the scandal of poverty.
To bring about the scale of effort required to end poverty, Christian Aid believes that world leaders and the public need to face up to the urgency of the task. The global financial crisis has pushed more people into poverty. But long before this, it was clear that poverty could never be over without unprecedented change.
Over the past six weeks Christian Aid has spelled out its groundbreaking vision, Poverty Over, through a series of articles in Weekend magazine and additional material on guardian.co.uk/poverty-over. The international development charity is demanding urgent action on eight global issues, and looking at some of the changes required to shift the balance of power in favour of the poorest. If dealt with, these eight issues – climate change, conflict, corruption, disasters, food and agriculture, health, inequality and tax – could make a fundamental and lasting difference to billions of people around the world. Christian Aid wants more people to understand these issues and, crucially, to act on them.
The economic crisis provides an opportunity to make these changes. Old truths, old ways of thinking and old economic models have been exposed as fundamentally unsuited to promoting human development.
Ending poverty will require economies and markets to function in ways that protect the environment, and enable women and men to make a dignified, secure and sustainable living. Governments must put the needs of people living in poverty at the heart of decision making, ensuring their security and their access to justice.
It is imperative that people in developing countries are able to benefit from taxation as a sustainable resource for their own development. "Tax provides the revenues that allow states to be independent of donors, and in turn to provide their citizens with basic services, as well as investing for the future," says David McNair from Christian Aid's economic justice programme. "Fair political representation and better governance – less corruption – is systematically associated with a functioning tax system.
"Tax has been neglected for too long in development discussions, but must now be moved to the top of the agenda if we are serious about a future of independent, effective and politically responsible states. A lack of transparency in the global financial system facilitates both tax dodging and illicit capital flight [illegal movement of money overseas] at the expense of poor countries."
It is not just the economic situation that provides an opportunity for change. We are at risk of a climate crisis, caused largely by carbon emissions from richer nations. The countries most vulnerable to the effects of climate change are in the developing world. Zimbabwe is just one example of the disastrous impact of climate change on poor people and their livelihoods.
"Severe droughts in Zimbabwe are directly linked to climate change and the situation can only get worse until this is addressed," says Alison Doig, Christian Aid's senior adviser on climate change. "Rainy seasons are starting up to 33 days later than expected, and rainy periods are more erratic. Failure to act now on climate change will not only delay the eradication of poverty, it will make poverty dramatically worse, and could make it permanent."
Christian Aid believes that wealthy countries must urgently agree legally binding targets to reduce emissions. They must also help poor countries develop cleanly and adapt to the changing climate.
Last year David Cameron, the prime minister, promised his government would be the greenest ever. Yet UK-listed companies, which are responsible for 12-15% of global carbon emissions, are still not required by the government to report emissions to an agreed standard. But it's not only governments that need to act – Doig cites the World Bank as not following through on its original target.
"The World Bank was set up to end poverty," she says. "Yet it is lending poor countries money for fossil-fuel power plants that benefit big businesses, accelerate climate change – and do little for poor communities."
As an organisation driven by a passion for justice, Christian Aid believes we must seize this opportunity. Change in the world can be achieved by campaigning and other advocacy work. A global compact to end poverty is possible, and the necessary thinking is within reach – if we build an active, committed movement for social and political change.
http://www.guardian.co.uk/poverty-over/christian-aid-a-chance-to-make-a-difference