Indra Sinha 14 April 2011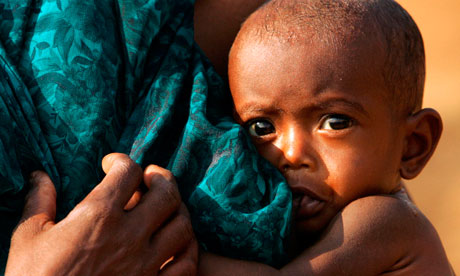 Binayak Sen worked for the tribal people of Chhattisgarh, such as this mother and child, fighting TB, malaria and malnutrition. Photograph: Kamal Kishore/Reuters
On Friday, the Indian supreme court will hear an application for bail from Binayak Sen who, last Christmas Eve, was sentenced to life imprisonment by the state of Chhattisgarh for allegedly aiding Maoists.
Binayak Sen is a paediatrician. For 30 years he has worked in the jungle giving medical care to tribal peoples, fighting TB, malaria and the effects of malnutrition. He set up a hospital staffed by mine workers and was secretary of the People's Union for Civil Liberties (PUCL).
The Chhattisgarh police arrested Sen in May 2007. "Too early," the director general of police, Vishwa Ranjan, confided to a journalist a year later as Sen remained in jail. There was not yet enough evidence against Sen, said Ranjan, but the police were sure to find some on his hard disk.
Sen spent two years awaiting trial, during which time he won the Jonathan Mann award for global health and human rights, and the RR Keithan gold medal award for a lifetime of services to the poor. As calls for his release multiplied, Ranjan, on a visit to UCLA Berkeley in 2008, became so flustered that he signed a petition calling Sen's arrest an outrage and demanding his immediate release.
The supreme court freed Sen on bail in May 2009, but freedom was shortlived. On December 24, 2010 he was convicted of sedition, a crime invented by the British and used against Mahatma Gandhi. As defined in section 124A of the Indian penal code, it can mean whatever the government wants.
Whoever, by words, either spoken or written, or by signs, or by visible representation, or otherwise, brings or attempts to bring into hatred or contempt, or excites or attempts to excite disaffection (including disloyalty and all feelings of enmity) towards, the government established by law in India, shall be punished with imprisonment for life, to which fine may be added, or with imprisonment which may extend to three years, to which fine may be added, or with fine.
The evidence laid against Sen was both farcical and tragic. Police investigations of his hard disk had unearthed an email that said "We have a chimpanzee [George W Bush] in the White House". "It is significant," argued the prosecutor, "because terrorists oppose the US president."
In an effort to prove that Sen was the hub of an international terror network, the prosecution revealed that his wife, Dr Ilina Sen, had contacted the ISI, Pakistan's secret intelligence agency. In fact, she had written to the Indian Social Institute, in New Delhi.
Crucial testimony on which the prosecution's case depended came from a witness who was walking along Station Road, Raipur, just as a man called Piyush Guha was being arrested by police. The witness said he overheard Guha tell police that Sen had carried letters from a jailed Maoist. Apart from this being hearsay, and that a confession made to a police officer would in any case be inadmissible, the police had already testified in another court that Guha had been arrested at a different location. The prosecutor said this was a stenographer's error.
Sen's conviction, on such non-evidence, was a shock. Eminent lawyers called it a disgrace. Amnesty International adopted Sen as a prisoner of conscience. Forty Nobel laureates from a dozen nations called for his release.
This Friday, the supreme court has a chance to prove that justice in India is not a tragic farce. Will it? Some are saying that although the state's case is so weak as to be nonexistent, a strong political lobby wants voices like Binayak Sen's silenced because he and the tribal people he seeks to protect are obstacles to development.
The stakes are huge. Indian politicians are eyeing the bauxite, copper, iron ore, coal, tin, dolomite, diamonds and gold that lie beneath the forest floor, and sign memoranda of understanding (MOUs) with foreign multinationals and big Indian corporates. A whispering campaign is going on that, despite the lack of evidence, Sen really is a Maoist bigwig. Ilina Sen says that one of the nastiest smears she has heard is that Sen engineered his own incarceration to win a Nobel peace prize.
The state government is opposing Sen's bail application. Its affidavit claims Sen is just pretending to be a doctor because, when his house was searched, no medical equipment was found. The judge who sentenced Sen insinuated that his opposition to the Salwa Judum – a violent paramilitary group armed by the state – puts him in the Maoist camp. But in 2008 the supreme court had itself opposed the Salwa Judum, asking: "How can the state give arms to some persons? The state will be abetting in a crime if these private persons kill others."
Last month, villagers in the jungles of central India heard the tramp of boots, and saw masked men with rifles and cigarette lighters. Houses burned, women and girls were raped and molested, one woman came to with her nose-rings ripped from her face to find her husband's bloodied corpse hanging from a tree. Another man was hacked open by an axe. Jewellery and money vanished, and while granaries blazed the attackers dined on stolen hens and pigs.
Five separate attempts were made to reach the stricken villages – by the district collector; a Congress party delegation led by an ex-minister; an assistant sub-inspector of police; reporters from the Times of India and Hindu; and by human rights organisations accompanied by Swami Agnivesh. All were turned back by armed paramilitary gangs.
When a team from the investigative news magazine Tehelka reached the area by circuitous forest paths, villagers confirmed that their attackers were SPOs, "special police officers" and Koya commandos armed by the state, successors to the Salwa Judum.
The supreme court of India has appointed commissioners to investigate, but media commentators doubt that they will make it. Ironically, the only way to get there would be with the good offices of the Maoists – in which case, under Chhattisgarh justice, they could all be locked up for life.
http://www.guardian.co.uk/commentisfree/libertycentral/2011/apr/14/binayak-sen-india-supreme-court-sedition