Mark Tran 14 April 2011 : guardian.co.uk
The latest blueprint for aid work outlines four basic principles that aid organisations should focus on in their work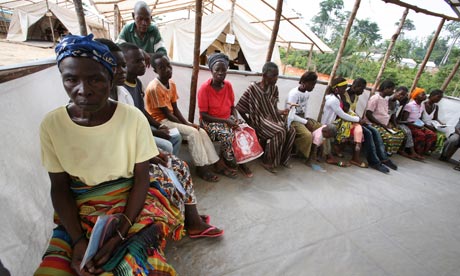 Photograph: Ahmed Jallanzo/EPA : Ivorian refugees wait for medical treatment at a Médicenes sans Frontièrs (MSF) clinic in a refugee camp. New standards for the humanitarian sector to improve its response to armed conflict and disasters were unveiled on Thursday.
In his review of how Britain responds to humanitarian disasters, Lord Ashdown highlighted a familiar failing among aid agencies: how they sometimes seem to be trying to advance their own agendas rather than concentrating on the needs of the people they are trying to help.
Others have accused aid agencies of "jostling for position" and putting their own interests above those of the victims, as the Lancet said in a caustic editorial on the humanitarian response to the Haiti earthquake. Nicholas van Praag, writing on the Poverty Matters blog, chided relief groups for running aid programmes without gauging how beneficiaries feel about them, ignoring the simplest test of client satisfaction. So it is timely that Thursday sees the launch of new standards for the humanitarian sector to improve its response to armed conflict and disasters.
The latest Sphere handbook, considered the blueprint for aid work, includes a fresh chapter on "protection principles" that urges organisations to consider the wider impact of their actions.
The first principle is: avoid exposing people to further harm as a result of your actions. Dr Unni Krishnan, disaster response policy co-ordinator for Plan International, and a member of the Sphere board, cites the example of the floods in Bihar in 2008 that affected more than 1.4 million people. The floods were not the result of monsoon rains but of a breach in embankments that had been built by the government to protect people.
"This disaster demonstrates that 'good intention' alone is not good enough," said Krishnan. "Participation and ownership of communities, especially the most vulnerable, like children, are key in development and humanitarian response."
Or as the handbook asks: "What might be the unintended negative consequences of our activities for people's security, and how can we avoid or minimise these consequences?"
The second principle is: ensure people's access to impartial assistance – in proportion to need and without discrimination. It's a fine principle, but sometimes hard to uphold in a situation of armed conflict, as a member of the Sphere board noted.
"In Ivory Coast, the UN has appeared to take sides in the conflict," said Ed Schenkenberg van Mierop, executive director of the International Council of Voluntary Agencies (ICVA). "Local NGOs that were supposed to distribute aid to areas held by Gbagbo's forces on behalf of the UN refugee agency, UNHCR, were forced to return the aid to the organisation. Now too few impartial and independent humanitarian agencies are present on the ground in Ivory Coast."
The third principle is: protect people from physical and psychological harm arising from violence and coercion. This is even more problematical as humanitarian agencies are simply not equipped for this role and have to rely on the authorities. But as the recent case of mass rapes in the Democratic Republic of the Congo underlines, those authorities – the UN in this case – can be found wanting.
The fourth principle is: assist people to claim their rights, access available remedies and recover from the effects of abuse. There are some useful tips such as organising group activities for children in schools, something that is being done in Liberia for Ivorian refugees.
There will be many practical difficulties in implementing these four core protection principles, but they provide a useful reminder for humanitarian agencies to focus on what is important and on the people they are trying to help – and to do so in an appropriate way.
"People in disasters have basic needs like food and water, but aid work is not as simple as service delivery," said Marie Staunton, chief executive of Plan UK. "Humanitarian workers also have a wider responsibility for the human rights of the people they are meant to be helping – such as their right to freedom of movement and their right to a healthy environment. These rights could be limited or violated by the relief they receive, if it is delivered in an inappropriate way."
Or as Krishnan put it: "Relief and rights should go hand in hand. They complement each other."
http://www.guardian.co.uk/global-development/poverty-matters/2011/apr/14/core-principles-aid-providers-relief-rights